Unique Insight from the Experts
Hear their perspectives on the hot-button issues that are impacting the mortgage industry, economy, and your business.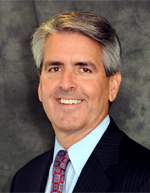 David H. Stevens
President and chief executive officer, Mortgage Bankers Association (MBA)
David H. Stevens is president and chief executive officer of the Mortgage Bankers Association (MBA).
Stevens has more than 30 years as an executive in mortgage finance, sales, acquisition, investment, risk management and regulatory oversight. Stevens started his professional career at the World Savings Bank and was later a Senior Vice President at Freddie Mac and an Executive Vice President at Wells Fargo, before being President and Chief Operating Officer of Long and Foster Companies, the nation's largest privately-held real estate firm.
Immediately prior to joining MBA, Stevens was the Assistant Secretary for Housing and Federal Housing Commissioner at the United States Department of Housing and Urban Development (HUD). In this role, Stevens had direct responsibility for oversight and administration of the Federal Housing Administration (FHA) insurance portfolio.
Stevens is quoted frequently in major national and trade media on issues affecting the mortgage and housing markets. He was named one of Swanepoel TRENDS Report's top ten "Newsmakers" of the year, made Bloomberg's "50 Most Powerful People in Real Estate" list, and has twice been named one of the "Top 100 Most Influential Real Estate Leaders" by Inman News.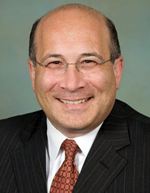 Ron Insana
Award-winning journalist, senior analyst and commentator for CNBC, author
Ron Insana is a contributor to CNBC and MSNBC, where he discusses the most pressing economic and market issues of the day. He also delivers The Market Scoreboard Report to radio stations around the country. He has written for Money Magazine and USA Today
In addition to his work as a business journalist, Insana served as a Managing Director at SAC Capital, a $14 billion hedge fund, run by the legendary Steve Cohen.
Insana is well-known for his high-profile interviews, which included Presidents Clinton and Bush; billionaire investors Warren Buffett and George Soros, among others: captains of industry from Bill Gates to Jack Welch and to the late Steve Jobs, top economists, analysts and global heads of state.
Insana was named one of the "Top 100 Business News Journalists of the 20th Century" and was nominated for a news and documentary Emmy for his role in NBC's coverage of 9/11.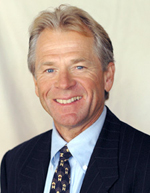 Peter Navarro
Professor of economics and public policy at the Paul Merage School of Business,
University of California, Irvine
Peter Navarro is a PhD economist from Harvard University and a business professor at the University of California-Irvine. He is the author of the ground-breaking management strategy books, Always a Winner and The Well-Timed Strategy and the bestselling investment books If It's Raining in Brazil, Buy Starbucks and When the Market Moves, Will You Be Ready?
A frequent CNBC contributor, Professor Navarro has also appeared on 60 Minutes, ABC World News, Bloomberg, CNN, MSNBC, and NPR while his articles have been published in outlets ranging from Business Week, The Los Angeles Times, and The New York Times and to Harvard Business Review, the Sloan Management Review, and the Wall Street Journal.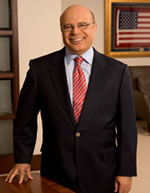 S.A. Ibrahim
Chief Executive Officer, Radian Group Inc.
S.A. Ibrahim is CEO of Radian Group Inc., one of the largest private mortgage insurers in the United States. Prior experience in the finance sector included GreenPoint and American Express. Mr. Ibrahim serves on the Board of Trustees of the Institute of International Education in New York, the Eastern PA Anti-Defamation League, the Wharton Executive Board, and the Academy of the University of Pennsylvania. Mr. Ibrahim and his family support education and promote international and inter-faith understanding through the Ibrahim Family Foundation which sponsors the Ibrahim Leadership and Dialogue Project in the Middle East. Mr. Ibrahim holds an MBA in Finance from The Wharton School of The University of Pennsylvania and a BE in Engineering from Osmania University in India.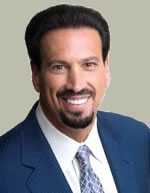 Barry Habib
Vice President and Chief Market Strategist, Residential Finance Corporation
Barry Habib is an American entrepreneur and mortgage industry executive. He is vice president and chief market strategist for Residential Finance Corporation, a leading mortgage banker based in Columbus, Ohio.
Before joining RFC, Barry was the founder, creator and CEO of Mortgage Market Guide, which helps to interpret and forecast activity in the mortgage rate and bond markets. After inventing the concept within the mortgage industry in 2001, Barry built, grew and then sold the company in 2007 and remained as CEO until 2010.
Barry is also the lead producer, managing partner and majority shareholder in "Rock of Ages," a musical theatrical production running on Broadway, Australia, London, and touring the US, as well as a major film, starring Tom Cruise.
Barry has enjoyed a long tenure as a market expert on FOX and CNBC Networks, including his Monthly Mortgage Report, which can be seen on "Squawk Box" every month.
Along the way, Barry has successfully managed a hedge fund, authored a stock advisory newsletter, owned an insurance agency, and acted as managing partner in a real estate investment company.
Barry is currently a principal managing director of Health Care Imaging Solutions (HIS), a company which he helped create. HIS is doing important work in helping to detect early signs of cancer and heart disease.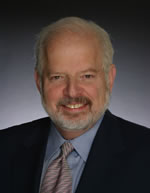 Sig Anderman
Founder and Chief Executive Officer, Ellie Mae, Inc.
A serial entrepreneur who has founded four successful companies, Mr. Anderman is a recognized leader in mortgage automation.

Since 1997, Mr. Anderman has been the guiding force behind Ellie Mae's vision, strategic direction and continued growth. On his watch, the company created the Ellie Mae Network™ and Encompass360® software which together annually account for more than 20% of all U.S. mortgage originations. More than 50,000 users currently rely on Ellie Mae's technology and services. In 2011, Mr. Anderman led the company's successful initial public offering.

Ellie Mae is Mr. Anderman's fourth successful business venture in the mortgage technology and real estate space over the past three decades. He founded CompuFund, the industry's first computer-based mortgage banking network, later sold to Great American Bank, and Inspectech, a high-tech home inspection company acquired by LandAmerica. He also co-founded American Home Shield, a home warranty company and now a division of ServiceMaster.

Mr. Anderman ranked among Inman News' "100 Most Influential Real Estate Leaders" in 2006 and "20 Most Influential Leaders in the Mortgage Industry" in 2007. He is a noteworthy speaker and presenter, and has been featured in numerous books and articles relating to entrepreneurship, business strategy, corporate leadership and management.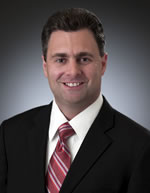 Jonathan Corr
Chief Operating Officer, Ellie Mae, Inc.
Mr. Corr joined Ellie Mae as senior vice president of product strategy in 2002, became executive vice president and chief strategy officer in 2005 and chief operating officer in 2011. He was instrumental in Ellie Mae's successful IPO in April 2011, and in the acquisitions of Del Mar DataTrac, Mortgage Pricing Systems, Mavent and Online Documents. Mr. Corr also played a key role in spearheading the company's efforts to secure patents for the Ellie Mae Network™. The network, in conjunction with Ellie Mae's Encompass360® software, supports approximately 20% of all U.S. mortgage originations annually.

Earlier in his career, Mr. Corr served as vice president of product strategy at PeopleSoft. He also held various positions at Kana/Broadbase Software/Rubric, Apple Computer, Tandem, Compaq and Netscape.

In 2007, Mr. Corr received Mortgage Banking magazine's prestigious IT All-Star Award for his contributions in the mortgage technology arena. He is a frequent speaker at industry panels and conferences and a recognized expert in the field of mortgage technology.
Stay tuned to this page for the latest Encompass EXPERIENCE 2012 speaker news and updates.
Speakers subject to change without notice.